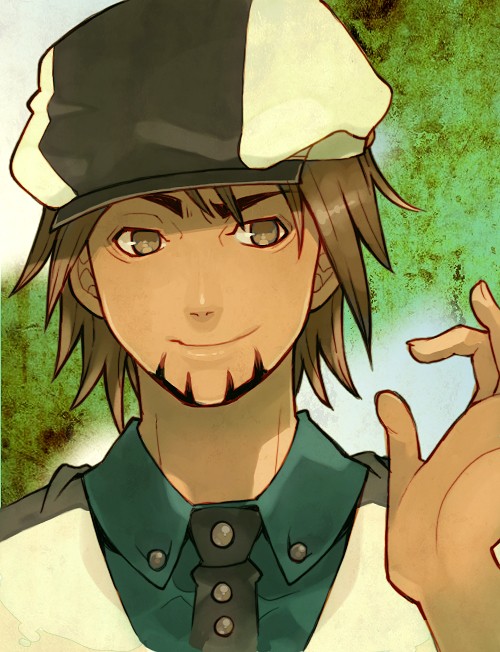 FULL NAME:
Yanda Shinichiro
AGE:
17
GENDER:
Male
PHYSICAL DESCRIPTION:
A tall teen of mixed Japanese/Brazillian descent. Shinichiro stands six foot one inches with a thin, long-limbed frame and dark skin. He has a sharp fashion sense and is typically seen wearing a waistcoat and tie. He can also be identified by his characteristic vintage hat, an item that Shinichiro appears to cherish. He appears older than he really is, often being mistaken for an adult in his early twenties. Shinichiro takes great care in his appearance, maintaining a neatly trimmed beard and fashionable haircut.
INFORMATION:
Born to a Japanese father and Brazillian mother, Shinichiro was raised a strict Catholic under the loving arms of his local church. The eldest of 8 children in a poverty stricken family elder boy took on the responsibilities of raising his younger siblings to help his parents. He maintains a good relationship with his family, leading to him feeling homesick whilst away on work. At the age of 13 Shinichiro was chosen to study at the Vatican with the aims of becoming a priest. He was soon dispatched as a missionary to Haiti where he discovered an interest in the occult and voodoo. His talent for occult investigations and the peculiar form of magic led him to become a valued asset of the Catholic Church in their covert operations.
ABILITIES:
Voodoo- A type of esoteric magic originating from African religious and spiritual ceremonies combined with Catholicism. Demonised by the church, it is a misunderstood practice which has as many beneficial applications as harmful ones. Shinichiro specialises in the use of the traditional voodoo doll, allowing him to manipulate and injure his opponents using a small, handcrafted effigy. When combined with an item connected to his target (a lock of hair or personal item for instance) he can cast a ritual allowing him to manipulate that person's body.
FACE CLAIM:
Kaburagi T Kotetsu, Tiger and Bunny.
---
Permissions in this forum:
You
cannot
reply to topics in this forum