(Narikiki Unimato)
Level 3 Phase Warp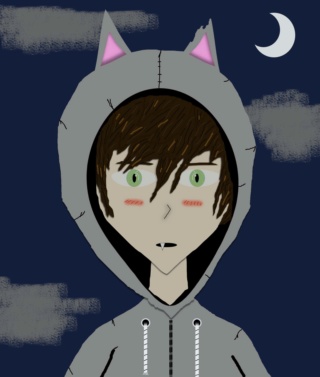 "oh, I'm not really one for introductions... agh, my foot phased through the ground... happens when I'm nervous...."
FULL NAME:
Narikiki Unimato
OTHER ALIAS:
Phase Warp, Nervous Wreck, Uni
CURRENT AGE:
16
GENDER:
Male
OCCUPATION:
Student
SCHOOL:
A Certain Middle-High School
FACTION:
None
APPEARANCE:
A few inches below average height and in general small/slim. Dark brown hair, medium length hair. Pale green eyes. Grey hoodie with cat ears that appears to be a little big, the right ear being torn. Left sleeve hoodie is pulled up whilst the right hides his hand. Dark blue, slightly worn jeans with the left leg rolled up a smidge and a band tied around his leg. Black boots.
HEIGHT:
162.6 cm
WEIGHT:
 43.5 Kg
DISTINGUISHING FEATURES:
oddly pale skin, eyes appear to glow in the dark
PERSONALITY:(Shy)
Doesn't do well with new people and takes awhile to warm up to anyone. When particularly nervous he phases through things subconsciously (i.e. foot phasing throw floor, arm phasing through wall)
(Calm)
Usually sports a blank expression, or tries to.
(Skeptical)
Doesn't always believe what people tell him, especially if it's of an unusual nature... regardless of the fact they are surrounded by unusual people with abilities
(Neutral)
Tries to stay out of conflict when possible, but will defend himself when needed
(Bookworm)
Often retreats to a quite area with a book when feeling uncomfortable.
LIKES:
- Walks in the rain/rain in general
- Time to himself
- Reading
DISLIKES:
- Scientists/Researchers
- Harming others
- Suspicious characters
STRENGTHS:
- Assessing a situation
- Maintaining an optimal distance depending on enemy
- Using the environment to his advantage
WEAKNESSES:
- Coordination/Accuracy
- Calculations (often times resulting in inaccuracy)
- Holding back even when not necessary
- Low self esteem/underestimating himself  
HISTORY:
   Lacking self esteem throughout his life, his parents thought it would help if they sent him somewhere with a higher standard of education, Academy City. They hoped that paired with learning a psychic ability would boost his confidence. However, it didn't help as much as they thought. The ability only caused him to avoid people more, due to being able to hide from anyone by going transparent on the spot or phase into a nearby room.
  When first developing the ability, his hatred towards the various scientists and researches grew as they kept poking him with the usual electrodes and prescribing their nausea-inducing meds. This most likely didn't help with his desire of wanting to just hide from others. By the end of it, when his ability started to show form, he was ironically happy, not because he had an ability, but by the prospect he wouldn't be prodded like a lab rat any longer. Their methods did plague his mind, for awhile after, but once he got fully emerged in classes, it was the last thing on his mind.
 Now he had to worry about the usual school things, such as when's the next test, will their be a pop-quiz today, who he had to go out of his of not making contact with. "At least being late is almost never an issue" is what he would tell himself every morning he woke up "at least I have that going for me..."
RANK:
None
LEVEL:
3
(Phase Warp):
  It gets it's name from the fact it "warps" or manipulates the particles and interactions with said particles, of his own body, as well as anything in contact to the point of complete transparency. Makes one transparent to the point light, photons, and various forms of matter can pass through you. It is also capable of effecting objects and people that are in contact whilst using the ability. Is only capable of phasing objects in contact no bigger than say a household microwave (though his clothing do indeed become transparent with him.)   
   On a mental level, this is developed by one who has low self esteem to the point of believing no one sees or know they are there, constantly feeling like they are being looked right through. This also applies to someone who has a desire to not be seen at all or even just wanting to be left alone, completely. It's not to say this can't be developed by one with higher confidence levels or self esteem, but it's believed that one of that nature has a lower possibility of achieving "perfect transparency." This can also be said to for those who have a tendency of lying, which may as well cause a metaphorical, or in this case, realistic "Pinocchio effect."
   In a sense, this is an ability that is difficult for one to control in an unstable emotional state (which in a way is no different than a pyrokinetic or electromaster losing their composure/temper) causing one to involuntarily "phase" their limbs through things. Another example being someone that has anxiety over a test to the point it might cause them to appear invisible, thus being entirely marked absent on said test day. Of course, this isn't just an extroverted teens worst nightmare, it does have some utility, ranging from of more mischievous use (i.e. playing a trick with a friend causing others to believe telekinesis is being used, also commonly used to feign teleportation.) To something more helpful being cutting corners, in a literal sense, to get to class on time or even slip past a protest that is making it difficult to get to point "B".
   Of course, this does have its drawbacks; for starters a sort of "size limit" to what can be phased that is in contact. From the aforementioned house hold microwave to a roughly half a meter, slender lead pipe. As for things such as another organism, nothing bigger than an average alley cat. There is also a "reflex" limit on this, meaning it's not quite as instantaneous as one thinks, taking roughly a 1 to 2 seconds of conscious thought to take full effect, dependent on mental state. For example, it is impossible to phase through a bullet from a couple of meters away to point-blank. That is to say, best case scenario, if the distance were far enough and the pull of the trigger was telegraphed to a point there was at least a 0.5 second delay from putting ones finger on the trigger and actually pulling it. Melee combat is a bit of a strange area, as well; if one wasn't very skilled and telegraphed every movement they would lose their breath before even landing a hit. Though, if one were concise and hard to predict, it isn't impossible to actually win in hand-to-hand combat against Phase Warp.
    Another thing one must keep in mind is a sort of "time limit," which may last from 63 seconds (the users whole body being phased) to 128 seconds (only a part, such as a limb), as long as there emotional state is kept in check. Any sudden alteration in the users emotional state, or even heart rate, could cause it to end, prematurely. This can cause serious injury if one remains within a structure whilst the phase end. Emotional state could also cause it activate involuntarily, as mentioned before, causing one's limbs to unintentionally phase. Lastly, if lacking in site while inside a structure, it is difficult to pinpoint the exact location of body parts, particularly smaller digits (toes,fingers) but full limbs (arms, legs) will have more of a general idea as to their "location" within the structure.
(Preferred Weapons)(Crowbar)
As well as other blunt objects he can get his hand on, since he aims at only incapacitating a target
(Tranquilizer)
Found from a discarded Ant-Skill utility belt, with most of the "lethal" items already looted.
CHARACTER THEME:
Blinded by Light (FFXIII) (
https://youtu.be/xfu0XBf8kmk
)
PLAYER'S NAME:
Narakiki Unimato
DISCORD NAME:
TraxEpsilon
RATING:
T (MAYBE M)
FACE CLAIM:
Narakiki Unimato (A Certain Magical Index/A Certain Scientific Railgun)
Last edited by Narikiki Unimato on Sun Jul 12, 2020 6:30 pm; edited 10 times in total

Narikiki Unimato

Level 3 Phase Warp




Posts

: 29


Join date

: 2020-06-03


Age

: 18



(Demo)

Heading back to his dorm from a tiring day of school, Unimato takes the usual shortcut through the usual alley as it begins to drizzle. About halfway through the alley, a thug walks up him from the shadows, asking if he could spare some change. Unimato shakes his head, backing away slowly. "I-I'm sorry" he replies sheepishly "I left my wallet at my dorm-" he stumbles a little bit as his left foot phased through the ground, mid-step. 'Why now?' he thinks to himself before phasing it back out, this always seem to happen whenever he's in these nerve racking situations. He turns around, ready to bolt just to come face to face with two more thugs.

"No wallet, you say" the first of the two says "looks like we'll have to settle with bashing your skull in, instead"
he takes a swing at Unimato with a pipe before he suddenly disappears.

"teh, a teleporter" the second of the two sneers "keep a look out-"

He was cut short by one of the nearby dumpsters banging, causing them to jump. This was due to the fact Unimato had only phased earlier, he didn't actually teleport. And right now he froze in his tracks, due to making more noise than he wanted to. He quickly picked up a glass bottle, hoping no one notice it suddenly disappear.

"what kind of ghostly bs is going on here?" one of the thugs exclaim before Unimato appeared right righ him and smashed the glass bottle over their head. The rest stared in disbelief as their comrade toppled to the ground.

Unimato dropped the remnant of the bottle with a face clearly saying 'I regret doing that' before turning around and bolting in the opposite direction and phasing into a nearby building...
Last edited by Narikiki Unimato on Mon Jun 15, 2020 9:04 pm; edited 1 time in total

Narikiki Unimato

Level 3 Phase Warp




Posts

: 29


Join date

: 2020-06-03


Age

: 18



Getting to this took me surprisingly longer than I had hoped. Seriously, I'm sorry.


1. Basics – Yeah, we're basic

Ideally, all numbers regarding height and weight should also be provided in the metric system, given that the large majority of the forum and its staff use it. Please adjust.


2. History – Skip

Until we have discussed the ability in further detail, I will skip commenting on the history as that one might be heavily impacted by the outcome of that talk.


3. Ability – 1, 2, 3, 4…

Reading it for the first time I didn't quite catch what exactly it does. After all, you mention that it is a mixture of four different skills, listing what it is capable of approximately and that's it. There is no explanation on its actual foundation nor is there a clear direction given to it. As of right now it is literally all four of those abilities meshed into one. That's where the problem starts.

This ability as it stands right now is clearly multi-skill is there no unified foundation at the bottom of its workings (even if we include the reality and matter control paragraph). A thing all Esper abilities should have. Be it electron control in the case of an Electromaster, molecular acceleration in case of a Pyrokinesist or the transition through the 11th dimension in case of a Teleporter. There is only one baseline giving birth to the various results.

So please pick one of the four options: Teleportation, phasing through, telekinesis or illusions. Then scrap the others.

Furthermore, I will ask you to provide a deeper explanation of the ability's inner workings. It doesn't have to be a full length scientific text, but still make sense from an amateur pseudo-scientist POV. Here, concepts like controlling matter or (especially) reality itself should ideally not be mentioned – simply because both would be too powerful to be held by any Esper character.


4. Equips – Where'd he get that?

Where exactly does a supposedly ordinary Japanese high school student get his hands on a tranquilliser gun?

Shokuhou Misaki

Level 5 Mental Out




Posts

: 35


Join date

: 2020-04-06



I converted the measurement (I blame the u.s school system that trained me into using "customary" :p). I pretty much redid the ability and the history (more so because I didn't like how the history came out) and attempted to justify the tranquilizer (if it still doesn't work, I am completely ok with removing it). As well as changed about half of the demo to make it line up with the ability better.

Narikiki Unimato

Level 3 Phase Warp




Posts

: 29


Join date

: 2020-06-03


Age

: 18



I am back and I promised I would work through things at my old pace ☆

However, I still owe you an apology for the unusual delay.


3. Ability – A continuation

I like the reworked ability a lot more, but that was something we already discussed on the Discord server.

Yet, I feel like the explanation still sounds a bit too unscientific to warrant approval. Therefore, I would offer you a suggestion: How about making this an ability that allows him to manipulate the interaction between the particles of his body with outside ones with a strict focus on either allowing a specific interaction or not? This would allow him to phase through actual mass, become invisible by phasing through photons and so on.

The limits here would be that he could only use it on himself and – by extension – anything in very direct contact to him (such as his clothes).

But those shouldn't be the only limitations to be found in the ability description. Please provide some more to round it up. After all, no ability should be without downsides, drawbacks or possible counters.

Lastly, I gotta point out that Academy City – unlike what the anime and manga oftentimes reflect – doesn't have a high favour for people abusing their abilities in their everyday lives. This shouldn't be something to fix in this profile, but a general fact to keep in mind about future interactions ☆

Shokuhou Misaki

Level 5 Mental Out




Posts

: 35


Join date

: 2020-04-06



Changed the description a smidge using your suggestion to the best of my understanding as well as added the drawbacks (had them in mind, but never actually typed them, for some dumb reason.) And I am also contemplating removing the "mental level" paragraph or just leaving it for flavor text (let me know what you think, there.)

Narikiki Unimato

Level 3 Phase Warp




Posts

: 29


Join date

: 2020-06-03


Age

: 18



3. Ability – Not Yet Done

With the limitations added I gotta admit that it's too powerful as it is right now.

From the beginning on I felt quite iffy about the whole deal of expanding its application beyond his own body, but reading a possible application on a tank or even a building is a tad too much. Becoming intangible itself is already on the upper end of the power spectrum, but applying it on other (larger) things isn't good. Right now the limit should be his full body or a small external object in direct contact with him, such as a fire extinguisher.

More importantly, however, is the idea of how this state of intangibility plays out in an actual fight. Phasing through anything creates a condition of invulnerability. And that's not good.

A standard solution to this problem in cases like that would be to introduce the necessity of the ability's activation requiring an active effort to trigger. Meaning he would have to consciously activate it, with it possibly taking a moment (1-2 seconds) of his time. This paired with a short time limit (x minutes) of how long he can keep himself in the state of «transparency» would then become the required counterweight.

On top of that there would be the subconscious influence of his emotions, which could very well trigger as well as cancel the ability randomly. This in itself should also be mentioned as a clear drawback, as it can impact situations not only positively but also negatively.


Lastly, don't forget to also follow the pointer I left you on Discord.

Shokuhou Misaki

Level 5 Mental Out




Posts

: 35


Join date

: 2020-04-06



drastically reduced the size limit and tried to come up with a reasonable "time limit" including the drastic change in emotional state ending the "phase", prematurely

Narikiki Unimato

Level 3 Phase Warp




Posts

: 29


Join date

: 2020-06-03


Age

: 18



OK, as I announced yesterday we are done ☆ Congrats ☆


A little different from usual my final verdict will be a final (mandatory) adjustment necessary to balance the ability in terms of combat prowess:

1. The activation time for the ability is somewhere between 1 and 2 seconds, depending on the current mental situation of its user. Aka if he is stressed for example, it will take longer.


2. The maximum time limit to keep a single activation up is 63 seconds for the most complex application of full body phasing and 128 seconds for something simpler such as basic invisibility under best conditions. Afterwards he will be required to rest shortly. The shorter the rest, the shorter the subsequent activation with a minimum gap of 10 seconds.



3. If he phases through anything and turns back while still inside of that object, he will sustain extreme injuries similar to those experienced by a teleporter who gets their coordinates wrong and ends up stuck in a wall.


4. The phasing should lack a lot of detail. Meaning that if he were to attempt to phase only his arm through something he would roughly be able to target his arm and not detailed tiny spots such as his finger tips or only points.

Shokuhou Misaki

Level 5 Mental Out




Posts

: 35


Join date

: 2020-04-06



Done and done, thank you for your time an patience :)

Narikiki Unimato

Level 3 Phase Warp




Posts

: 29


Join date

: 2020-06-03


Age

: 18



---
Permissions in this forum:
You
cannot
reply to topics in this forum